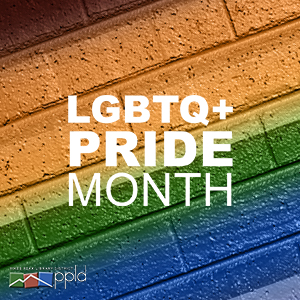 Celebrate Pride Month with PPLD!
---
Storytime
Join us for a special Pride Month storytime! Children's Staff from around the district will invite you to join in a virtual sing-along and then read a children's book. Videos are not live, so you can always view the videos whenever it's convenient for you.
Teen Fandom: RuPaul's Paper Dolls
When: Fri., June 18, all day
Where: All locations.
Don't sashay away from this Pride Month paper doll craft inspired by RuPaul's Drag Race!
Virtual Teen Programs
Teen Fandom: Ziggy Stardust Painting
Calling all David Bowie fans! Create your own painting of the iconic Ziggy Stardust in this step-by-step guide.
Teen Tech: Ziggy Stardust 3D Designed Earrings
Learn basic 3D modeling and celebrate bisexual icon David Bowie with a 3D-modeled Ziggy Stardust earring.
Teens Read: Books for PRIDE

---
Booklists
---
Regional History and Genealogy Resources
The Pikes Peak Lavender Film Festival Records (archival collection MSS 0342)
The city of Colorado Springs has a fascinating and often tumultuous history with the LGBTQ+ community. When the Lavender Film Festival began in 2000, it was the only LGBTQ+ film festival in the state of Colorado. The material in this collection provides valuable insight into this groundbreaking event. The collection includes VHS tapes and DVDs of the films shown at the festival. Newspaper clippings provide a glimpse at how the event was promoted, and in turn viewed, by the local community. The opening remarks of the event give us an understanding about why the organizers felt the festival would help bring awareness and educate people about LGBTQ+ issues and filmmaking. Various budgets and meeting minutes provide a detailed look into the work involved in bringing this innovative event to the community.
Colorado Springs Pride Center Records (archival collection MSS 0461)
The Colorado Springs Pride Center was one of the oldest LGBTQ+ community centers in the United States. Founded in 1978, the Center offered assistance and support programs to people across the Pikes Peak region. In 2014 alone, more than 8,400 people contacted the Center for help. Topics covered in this collection include – but are not limited to – Amendment 2, marriage, hate crimes, local news, and legal cases. News releases, newspaper clippings, and scrapbooks show the highs and lows of what was happening in the community. This nonprofit organization served as a much-needed medium for marginalized voices in the Pikes Peak region, and the material in this collection shows why.
Citizens Project Collection (archival collection MSS 0307)
Citizens Project's mission statement is to "spotlight issues in the Pikes Peak region and mobilize people to strengthen the traditional values of our nation: equal rights, individual freedoms, separation of Church and State, civic engagement, and respect for diversity." The Organizational Records provide a look at the inner workings of this watchdog group, including correspondence, meeting minutes, information on news coverage, and material from their workshops and diversity forums. The LGBTQ+ series includes a large amount of Amendment 2 material as well as documents on same-sex health benefits, the military, and marriage. The group distributes their own newsletter, Freedom Watch, highlighting many of the issues occurring in the local community. Researchers can also find VHS tapes on Amendment 2, photographs of Citizens Project events, and research on LGBTQ+ topics.