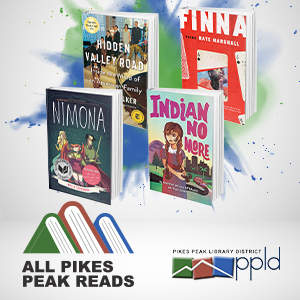 Pikes Peak Library District is pleased to announce the selected titles for All Pikes Peak Reads (APPR) 2021. This year's titles explore theme of community.
APPR is Pikes Peak Library District's annual community reads program that focuses on celebrating literature, improving community connections, and fostering dialogue across social, cultural, and generational lines. Each year, PPLD selects APPR titles that focus on a variety of timely topics and plans a variety of community-wide programs. This year's selected titles explore themes of hope, finding community and friendship, how we view those who are different than us, and how marginalized members of society are treated.
All Pikes Peak Reads at the Fine Arts Center
Hear short readings from all of our 2021 APPR titles and poetry readings by local poets. The evening will conclude with a reading and meet and greet with APPR author Nate Marshall.
---
Adult Selections
by Nate Marshall

Definition of finna, created by the author: fin·na /ˈfinə/ contraction: (1) going to; intending to [rooted in African American Vernacular English] (2) eye dialect spelling of "fixing to" (3) Black possibility; Black futurity; Blackness as tomorrow
These poems consider the brevity and disposability of Black lives and other oppressed people in our current era of emboldened white supremacy, and the use of the Black vernacular in America's vast reserve of racial and gendered epithets. Finna explores the erasure of peoples in the American narrative; asks how gendered language can provoke violence; and finally, how the Black vernacular, expands our notions of possibility, giving us a new language of hope.
Finna has received much critical acclaim and has been named One of the Best Books of the Year by NPR and the New York Public Library. The word "finna" was added to the Oxford English Dictionary (OED) in March 2020. In partnership with the Colorado College English Department, this title was chosen as an Adult All Pikes Peak Reads selection to encourage conversation about how we use and change language to reflect and find community, and also to inspire young people to explore the art of poetry to tell their stories.
Virtual Author Visits
Join Pikes Peak Library District for a visit from the Colorado College Mobile Arts Truck!
Meet Nate Marshall, a local poet and author of Finna, a 2021 All Pikes Peak Reads selection. You will also have the chance to participate in a short poetry workshop, listen to a reading by Nate, and grab a poetry craft to take home.
When: Thu., Oct. 14 from 6 to 7 p.m.
Where: Library 21c
This event will be followed by a facilitated Q&A with Nate Marshall in the Venue at Library 21c.
Q&A with Nate Marshall
Join Pikes Peak Library District and Nate Marshall, author of Finna, a 2021 All Pikes Peak Reads selection, for a facilitated Q&A session. Along with discussing Finna, Nate will discuss themes of language and the role language plays in our lives and society.
When: Thu., Oct. 14 from 7 to 8 p.m.
Where: Library 21c
by Robert Kolker

Don and Mimi Galvin seemed to be living the American dream. After World War II, Don's work with the Air Force brought them to Colorado, where their twelve children perfectly spanned the baby boom: the oldest born in 1945, the youngest in 1965. In those years, there was an established script for a family like the Galvins - aspiration, hard work, upward mobility, domestic harmony - and they worked hard to play their parts. But behind the scenes was a different story: psychological breakdown, sudden shocking violence, hidden abuse. By the mid-1970s, six of the ten Galvin boys, one after another, were diagnosed as schizophrenic. How could all this happen to one family?
Hidden Valley Road is an Oprah Book Club Pick, #1 New York Times Bestseller, and has been named Best Book of the Year by the New York Times, Washington Post, NPR, Time, and many others. This title was chosen as an Adult All Pikes Peak Reads Selection because of its local connection to the Colorado Springs community, its exploration of mental illness and associated stigmas, and its ability to shed new light on Schizophrenia and its treatments.
Virtual Author Visit
When: Thu., Oct. 21 at 7:30 p.m.
Where: via Zoom
Both Finna and Hidden Valley Road contain adult themes and language.
---
Young Adult Title
by Noelle Stevenson

Nimona is a brilliantly subversive, sharply irreverent epic from Noelle Stevenson, full of nemeses, dragons, science, symbolism and more!
Nimona is an impulsive young shapeshifter with a knack for villainy. Lord Ballister Blackheart is a villain with a vendetta. As sidekick and supervillain, Nimona and Lord Blackheart are about to wreak some serious havoc. Their mission: prove to the kingdom that Sir Ambrosius Goldenloin and his buddies at the Institution of Law Enforcement and Heroics aren't the heroes everyone thinks they are.
But as small acts of mischief escalate into a vicious battle, Lord Blackheart realizes that Nimona's powers are as murky and mysterious as her past. And her unpredictable wild side might be more dangerous than he is willing to admit.
Nimona was chosen to be our Young Adult All Pikes Peak Reads 2021 pick due to its themes of finding community in unlikely places, enduring friendship, and exploration of how we treat those in our community we see as different. We also love its witty tone, graphic novel format, and deconstruction of fairy tale tropes.
Nimona was selected as Indies Choice Book of the Year, National Book Award Finalist, New York Times Bestseller, New York Times Notable Book, Kirkus Best Book, School Library Journal Best Book, Publishers Weekly Best Book, and NPR Best Book.
Get your copy during Free Comic Book Day, Sat., Aug. 14, at any PPLD location while supplies last.
There will not be an author visit for the Young Adult book this year.
---
Children's Title
by Charlene Willing McManis with Traci Sorell

Regina Petit's family is forced from their homeland by the government and relocated to Los Angeles in 1957. Regina experiences a completely different life in a big city and learns about struggles, strength, community and heritage. For grades 3 - 6.
Indian No More was selected for the Children's APPR book because this unique story based on historical events demonstrates appreciation and understanding for heritage and finding community where you are planted.
Indian No More was the winner of the 2020 American Indian Youth Literature Award for Best Middle Grade and chosen as a 2020 Global Read Aloud.
The late Charlene Willing Mcmanis (1953-2018) was born in Portland, Oregon and grew up in Los Angeles. She was of Umpqua tribal heritage and enrolled in the Confederated Tribes of Grand Ronde. This novel is based on her family's experiences after their tribe was terminated in 1954. She passed away in 2018, knowing that her friend Traci Sorell would complete the revisions Charlene was unable to finish.
Virtual Author Visit
Indian No More contains adult themes and language.
---