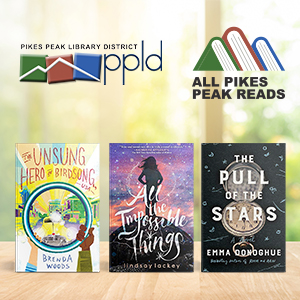 Pikes Peak Library District is pleased to announce the selected titles for All Pikes Peak Reads 2020. This year's titles explore themes of hope and resiliency.
All Pikes Peak Reads (APPR) is Pikes Peak Library District's annual program geared towards celebrating literature, improving community connection, and fostering dialogue across social, cultural, and generational lines. This fall we will present programs to the community including virtual author visits, book discussion groups, and more.
---
Adult Selection
by Emma Donoghue
Set in Dublin 1918, a country ravaged by war and disease, Nurse Julia Power works at a hospital where expectant mothers who have come down with an unfamiliar flu are quarantined together. Julia is soon joined by 2 strangers and in the darkness and intensity of this tiny ward, these women change each other's lives in unexpected ways.
Virtual Author Visit
---
Young Adult Title
by Lindsay Lackey
Written by a former PPLD employee - Struggling to control the wind powers that render her skies stormy whenever she feels stressed, Ruby "Red" Byrd, a 12-year-old in foster care, arrives at the petting-zoo home of a quirky couple. There, her new sense of belonging is challenged by the return of her troubled mother.
Virtual Author Visit
---
Children's Title
by Brenda Woods
Meriwether, a returning black soldier from WWII, saves 12-year-old Gabriel from certain death when he nearly gets killed by a speeding car. This sparks the beginning of new friendships, new experiences, and even new dangers that affect the lives of Meriwether, Gabriel and their families.
Virtual Author Visit
---
Programs
Take and Make: LED Constellation Art
Make a beautiful piece of art that lights up inspired by the Pleiades constellation inspired by the Young Adult APPR book, All the Impossible Things by Lindsay Lackey. Pick up the materials you need to complete the program at your favorite Library!
When: Thu., Oct. 1 - Sat., Oct. 31 (or as supplies last)
Check back here for related programs!