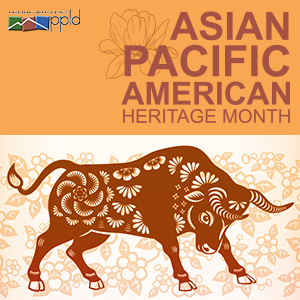 Celebrate Asian-Pacific American Heritage Month with PPLD!
---
Library Crafts: Paper Lei
Take and Make available on Fri., May 7 at all locations.
In celebration of Lei Day and Asian-Pacific American Heritage Month, take home everything you need to make your very own paper lei. All materials will be included, along with a brief history of the lei.
Library Crafts: Tea
Take and Make available on Fri., May 7 at Calhan, Cheyenne Mountain, East, Fountain, Library 21c, Monument, Old Colorado City, Penrose, Rockrimmon, and Sand Creek Libraries.
In celebration of Asian Pacific Heritage Month, try three teas at home! We will provide the tea and instructions for brewing.
---
Learn the art of Chinese Calligraphy in the comforts of your own home! Let JoJo, a California based instructor, teach you all about this beautiful and ancient writing style. You will learn the brief history of Chinese calligraphy, proper writing techniques, and the opportunity to write a few phrases using Chinese Calligraphy.
Please register to reserve your supply kit. Kits will be available to pick up from the East, Library 21c, and Penrose Libraries beginning on Mon., May 10. When registering, indicate in the notes field at which library you like to pick up your supply kit. One kit per registration. For ages 18+.
---
Special Virtual Storytime
Thu., May 20 at 10:30 a.m. on PPLDTV Youtube. Videos are not live, so you can always view the videos whenever it's convenient for you.
Children's Staff from around the district will invite you to join in a sing-along and then read a children's book.
---
Teens Read: #Ownvoices
---
Resources:
---
Regional History & Genealogy Resources:
Books from the Carnegie Library - Special Collections (Some titles are available for checkout from other library locations)
---
Website Links: