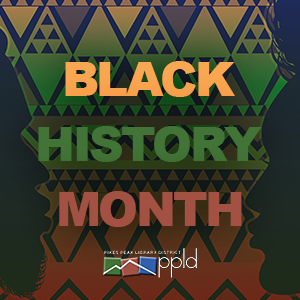 Join Pikes Peak Library District in celebrating Black History Month!
---
A History of Soul Food
Adrian Miller, author and Soul Food Scholar
, will trace the journey of soul food from West Africa to the American West. He will also discuss the current and future trends in soul food. For ages 16+.
Black Chef in the White House
Adrian Miller, author and Soul Food Scholar, will give an entertaining and informative look at African Americans who have fed our First Families since the days of George Washington.
African American Classics: An Introduction
This workshop introduces participants to some major texts by African American authors that have come to be recognized as classics and explores some defining elements of African-American literature. To illustrate the power and range of this literature, participants will read and discuss excerpts from three classic texts: Invisible Man by Ralph Ellison, Beloved by Toni Morrison, and A Lesson Before Dying by Ernest Gaines. For ages 16+. Registration is required.
Drumming with Bob Hall
Enjoy a hands on drumming adventure with Bob Hall from The Kusogea Nobi Drum Ensemble. This is an energizing, interactive experience for all ages.
We know there are all kinds of kids with all kinds of needs, so if your child might benefit from some sensory accommodations like fidget items or noise-reducing headphones while in the library or at a program, ask at the Children's Desk for our Sensory Accommodations Kit.
History of Mardi Gras
Join Dr. Wanda Cousar for the history of Mardi Gras. Learn about the Mardi Gras Indians as well as how other celebrations have been modeled after Mardi Gras throughout the world. Dr. Wanda will show examples of masks, music, and a dancing lesson! For ages 16+.
Buffalo Soldier Historical Snapshot
Dennis Moore will give an informative presentation on the Buffalo Soldiers. Buffalo soldiers were African-American soldiers who mainly served on the Western frontier following the American Civil War. In 1866, six all-black cavalry and infantry regiments were created after Congress passed the Army Organization Act. Their main tasks were to help control the Native Americans of the plains, capture cattle rustlers and thieves and protect settlers, stagecoaches, wagon trains, and railroad crews along the Western front.
---
Reading Lists
African American Fiction
African American Nonfiction
African American History in PPLD's Catalog List
Black History Month - A PPLD Reading List
Websites
African American History Month
African American History in Colorado
Special Collections Resources
African Americans in Colorado Springs