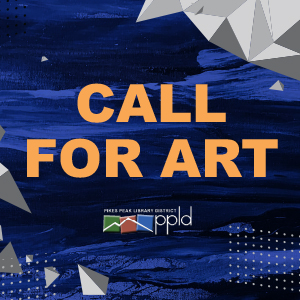 The call for art is an event that happens a couple of times a year in order to gather artists to show in PPLD's galleries around the district. This fall will be a combination of digital submissions and a physical drop-off, pick-up day. This is the first time that we will be accepting digital submissions.
When: Fri., Sept. 27, submission drop-off 10 a.m – 1 p.m. Pick-up 4 – 6 p.m.
Where: Library 21c Venue, 1175 Chapel Hills Dr.
This Call is going to be a combination of digital submissions and a day of physical drop-offs and pick-ups.
The Pikes Peak Library District Art Evaluation Committee will be reviewing art for future 1 - 2 month shows by individual artists. Bring 5 pieces of art in show ready format (matted, framed, and wired). Please bring a completed Art Exhibit Application to submissions drop off (below).
PPLD is now accepting digital submission. Please fill out the electronic form and attach five pictures of representative art.
Digital submissions will be accepted Sept. 27 – Oct. 4.
If you have any questions, please contact Ben Dahlby at bdahlby@ppld.org or (719) 531-6333, x6325