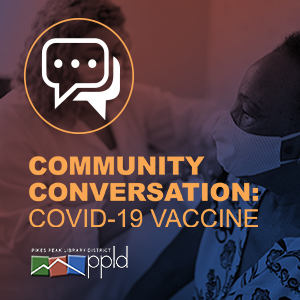 Community Conversations at Pikes Peak Library District is a new series of monthly events that invites the public to discuss current events and issues impacting the Pikes Peak region. We want to promote civil dialogue and greater understanding of different perspectives.
Covid-19 Vaccine
Panelists include:
Dr. Cynthia Hazel, researcher, OMNI Institute
Dr. Kweku Hazel, general surgeon, UC Health
Dr. Margaret Liu, Principal, ProTherImmune
Lisa Powell, MPS, El Paso County Public Health Office of Emergency Preparedness & Response
---
Keep an eye on our calendar to join us for future conversations on timely and relevant topics to the Pikes Peak region. More information to come on locations and times!