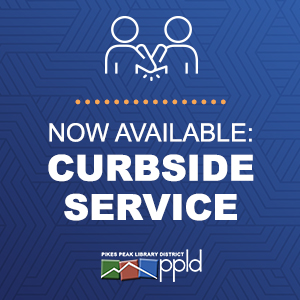 While you can access limited services inside our libraries with no reservation and use the Library remotely, our team is also ready to serve you outside of Pikes Peak Library District (PPLD) locations across El Paso County!
All 15 libraries and three mobile libraries offer curbside service, making it easy for you to return materials and safely pick up items without having any direct contact with Library staff or other patrons.
---
Returns
Book drops or return bins will be available 24/7 outside of all libraries, so you're welcome to return books, movies, and other physical items anytime that's convenient starting that day.
---
Holds
Ready to pick-up items that are currently on hold? Hours and procedures will vary by location, so please check your Library's curbside schedule below or by phone.
Click on your Library location below to see their curbside service hours, phone numbers, and pickup instructions:
Upon arrival:
Follow the procedures set out on your Library location's page (linked above). Then you'll be on your way to enjoy a new book, movie, or other find!
For new items, place your hold in the online Catalog or mobile app and select the location for pickup. Once you receive your email or text notification (if opted in), check your Library's curbside service schedule and call them to schedule pickup.
For curbside pickup, Library patrons are encouraged to follow public health guidance, including the use of cloth face masks/coverings and staying 6 feet apart from others.
Homebound patrons can designate another person to pick up their holds. Please call your Library for more information and to schedule such a pickup.
---
Wireless Printing
We now offer wireless printing at all locations. Submit your print job here, then follow curbside service instructions for your pickup location during their open hours. Hours and pickup instructions can be found through the links above. Please call ahead for Mobile Library Services pickup.
---
Curbside Curation
Let us help find your next great adventure in the Library's large collection! We're piloting this walk-up service at Penrose Library before offering it at other libraries. During curbside hours, patrons can safely browse a curated collection of materials from outside. Librarians also can assist with locating, placing holds for, or checking out your next read, movie, or other physical item. Plus, they can provide recommendations based upon your favorite books or films, preferred genres, and topics of interest, right then and there.
---
What's happening behind the scenes?
All returned materials may be quarantined for up to four days before being processed and circulated. This time limit has been approved by El Paso County Public Health.
Per the current COVID-19 status, the Library team can only work at half capacity inside our facilities. On-site staff are required to follow public health guidance like wearing face coverings, washing hands thoroughly and frequently, and maintaining proper distance during any in-person interactions. They are shelving books, pulling holds, quarantining returned materials, and helping circulate thousands of books, movies, and other items from PPLD's large collection between our libraries.
In addition to our limited services inside, our librarians are still here for you virtually! Staff continue to take your questions by phone, live chat, and email. They're also providing and expanding virtual services and programs, along with our digital collection. And, we're working with community organizations, school districts, and other partners to support El Paso County residents with many different needs during the COVID-19 pandemic and beyond.