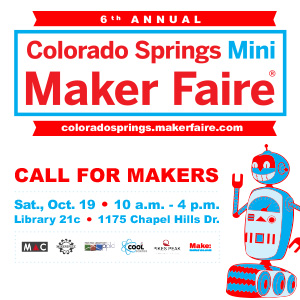 The Colorado Springs Mini Maker Faire is a gathering of fascinating, curious people who enjoy learning and who love sharing what they can do. From engineers to artists to scientists to crafters, Maker Faire is a venue for these "makers" to show hobbies, experiments, and projects.
We call it the Greatest Show (& Tell) on Earth - a family-friendly showcase of invention, creativity, and resourcefulness.
When: Sat., Oct. 19 from 10 a.m. - 4 p.m.
Where: Library 21c
Since beginning in 2014, the Colorado Springs Mini Maker Faire has drawn over 20,000 attendees who enjoyed hands-on experiences with over 100 makers and artists.
Highlights have included:
Rocket launches
Robots, including R2-D2
Skyping with a scientist in Antarctica
3D printing
Food trucks
LEGOs
Jewelry makers
A tiny house and a school bus converted into a camper
The Call for Makers is officially open. Click Here to apply!
The Colorado Springs Mini Maker Faire is a collaborative effort of Cool Science, the Manitou Art Center, Pikes Peak Community College, Pikes Peak Library District, Pikes Peak Makerspace, and Make. It is also the culminating event in the week of the Colorado Springs Cool Science Festival.
Glimpse the future and get inspired!