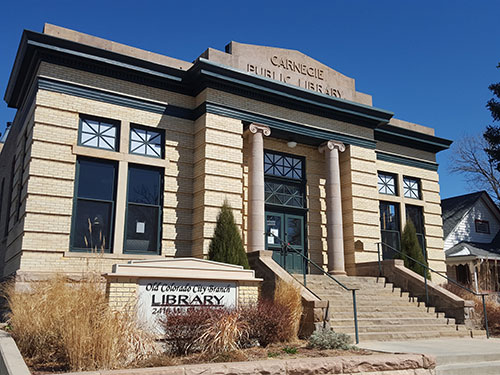 Old Colorado City Library is temporarily closed!
The historic Carnegie building is undergoing improvements. We are scheduled to reopen in early March.
Mobile Library Services will visit our parking lot during the closure on:

Mondays 9 - 11 a.m.
Wednesdays 3 - 4 p.m.
Every other Saturday 2:30 - 3:30 p.m. (starting Jan 9)

The bookdrop will remain available, so you can return materials outside the library, 24/7.
Wireless internet will be available outside our building during the closure.
During the closure, we welcome you to visit our nearest location, Penrose Library, located at 20 N. Cascade Ave.
---
Address:
2418 West Pikes Peak Ave. - map it!
Colorado Springs, CO 80904
Phone: (719) 531-6333, x7006
Curbside Pickup Phone Number: (719) 634-1698
Contact Us
Hours:
Monday - Thursday: 9 a.m. - 7 p.m.
Friday and Saturday: 10 a.m. - 5 p.m.
Sunday: Closed
Holiday Hours and Closures
Bus Route: 3