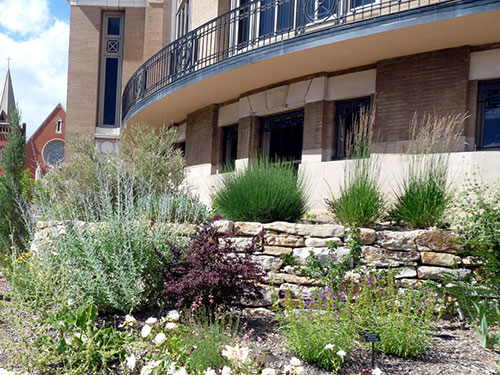 Our Library welcomes you back inside without a reservation! Plus, we have reopened more services and spaces at this location. Curbside services are still available at this location, which includes a park and text option for pickups.
Here's what you can expect when going inside the Library:
During your visit, you can do the following:
To make a reservation, call (719) 389-8968 or use the link provided above. Reservations are required for meeting rooms. They are strongly encouraged for computer sessions. A library card may be required for some reservations, such as computer sessions.
Here's what you can expect inside the Library to help prevent the spread of COVID-19:
The first hour is reserved for people at higher risk of serious complications from COVID-19.
Cloth face coverings or masks are required by all patrons and staff.
Staff regularly sanitize frequently touched items like handles, counters, copiers, and other equipment. Computers are cleaned between each use. There are also sanitation protocols for equipment checkouts, along with public-use areas like makerspaces, studios, and meeting rooms.
All fax machines, copiers, and computers are self-service only; staff can only offer assistance at services desks, behind a protective shield.
Some equipment, items, and areas remain unavailable to the public. This includes some furniture, computer stations, and meetings rooms, as well as all water fountains, children's play areas, and study rooms.
We ask that you keep your visits as brief as possible and reserve use of restroom facilities for emergencies only.
---
Use curbside pickup to retrieve your Library items on hold, wireless print jobs, and take and make kits!
You may come to the Penrose Library upper parking lot off of Cascade Ave. Park in a numbered designated parking spot and dial or text the phone number listed. Staff will answer and request your library card number, name, and parking spot number. After retrieving your items, staff will bring your items to your car. Staff will also be available just inside the front doors of the building to retrieve items for your convenience if you are visiting by foot or bike.
You may also call ahead to have your holds ready when you arrive, same-day pick-up only. To schedule same-day hold pick-ups or to check on the availability of your holds, please call (719) 389-8968.
Returns can be placed in the exterior book drops.
When using curbside services, library patrons are encouraged to follow public health guidance, including the use of cloth face masks/coverings and staying 6 feet apart from others. Learn more about our safety measures during the pandemic.
---
Address:
20 N. Cascade Ave. - map it!
Colorado Springs, CO 80903
Floor Plan
Phone: (719) 531-6333, x7015
Contact Us
Hours:
Monday - Thursday: 9 a.m. - 7 p.m.
Friday and Saturday: 10 a.m. - 5 p.m.
Sunday: Closed
Holiday Hours and Closures
Bus Route: 3, 9
Metered Parking:
Penrose meters are coin operated only, credit cards are not accepted on the meters.
Penrose meters are labeled that they are enforced 7 days a week, 10 a.m. to 6 p.m.
The rate is $.50 per hour accepted in .05, .10, .25, 1.00 coins.
The city of Colorado Springs enforces the meter compliance and writes tickets when in violation. PPLD has no authority to overturn a ticket that is issued by the city.
City meters operate:

Mon. - Sat. 10 a.m. to 10 p.m.; Sun 1 p.m. to 10 p.m., rate of $1.00 per hour.
These do take credit cards.

Penrose campus has a no trespassing declaration from 10 p.m. to 7 a.m.