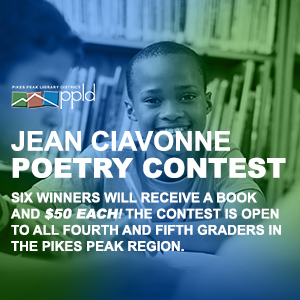 Thank you for your interest and participation in the Jean Ciavonne Poetry Contest.
Because of the evolving situation surrounding COVID-19, Pikes Peak Library District (PPLD) has made the decision to close all Library facilities until further notice. As a result, the Jean Ciavonne Poetry Contest Awards Reception is postponed, new date to be determined, and the judging process is on hold at this time. We are sorry for any inconvenience this may cause and appreciate your understanding! We extend our gratitude to the dedicated students and teachers who worked hard on their submissions.
Stay tuned for more information, and visit our COVID-19 page to learn more about the Library's temporary closure.
---
Poetry Stew: Poems About Food
Children may write about any food, real or imagined.
The Jean Ciavonne Poetry Contest is open to all fourth and fifth graders in the Pikes Peak region.
---
How to get started:
The food you write about can be a favorite food, a food that you want to try, or even something you never want to eat again! It can even be from your imagination! Try to avoid writing a list of foods, and instead use all of your senses to describe it. How does it taste, feel, smell, look, and maybe even sound?
Describe a food you remember eating when you were little. Did you love it or hate it?
What are your favorite foods? Remember the first time you tried your favorite food. Do you eat special foods for special occasions, such as holidays or birthdays?
If you had to eat the same food every day, for every meal, for the rest of your life what would it be, and why?
Have you ever cooked or baked something before? Was it a success or a disaster?
---
Prizes
Six winners will receive a book and
$50 each!
---
Eligability:
The contest is open to all fourth and fifth graders in the Pikes Peak region.
Contest Rules:  
One entry per student. Teachers are urged to review poems and submit no more than five per class.
Each poem must be the original work of the contestant.
Poems will be judged on originality, including poem title and adherence to the theme.
Submit two typed, double-spaced copies of each poem on 8 ½" x 11" paper (no handwritten submissions or illustrations will be accepted.) Include on a separate piece of paper: name, telephone number, home address, school name and address, and teacher and principal's names. Poems will not be returned. Please keep a copy.
Entries must be postmarked by March 3, 2020.
Submission of a poem constitutes full permission to exhibit, use and publish the poem for any purpose – printed or electronic media – and to publish the name, school, and photographs of the student without compensation.
Entries may be mailed to:
The Jean Ciavonne Poetry Contest
c/o Carol Scheer
Pikes Peak Library District
P.O. Box 1579
Colorado Springs, CO 80901-1579
Or email entries, following guidelines above to: cscheer@ppld.org
Questions?
Call Evan Childress at 531-6333, x6069
---
The awards will be announced in April, and the award ceremony will be April 11, 2020.