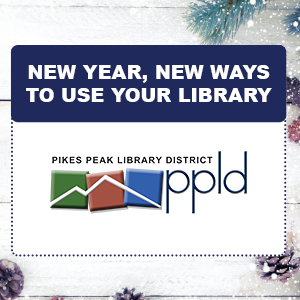 Every year, we create resolutions to ring in the new year with a spark of positive change. This year, let your Library help! This list has been compiled to help you accomplish each of your goals, not just for resolutions but for long-lasting success in all areas of life. Whether your goals include organization, health and wellness, family, career paths, or something else, we have a large variety of resources that can be utilized at little to no cost.
Pikes Peak Library District (PPLD) has classes, books and eBooks, movies, games, programs, and more to help you achieve all of your goals. All you need is your Library Card.
Library Locations
Did you know that PPLD has 15 Libraries in El Paso County and mobile library services? Find the Library closest to your home and office.
Library Programs
Learn more about what classes and programs your Library offers with the full calendar of events.
Contact Your Library
Looking for more information? Stop by your Library today, give us a call, or visit our website for additional information.
Databases
Access information and trainings on just about every subject under the sun from the comfort of your home.
LibGuides
Your source for research assistance, subject guides, and library resources!
Follow Us on Social
Stay up-to-date on events and more by following PPLD on your favorite social media accounts.
@PikesPeakLibraryDistrict

@ppld