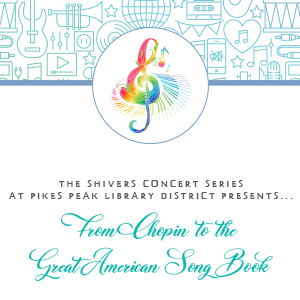 The Shivers Concert Series presents a From Chopin to the Great American Song Book:
World renowned pianist - Rossano Sportiello
Guest appearance by our own Lila Mori, singer of jazz
Guest appearance by Marliana Owens, classical soprano
When: Fri., Oct. 25

Social Hour with open bar and heavy hors d'oeuvres at 7 p.m.
Concert to begin at 8 p.m.
Meet the Artists Dessert Reception at 9 p.m.

Where: The Antlers Hotel
Tickets: $55; Call (719) 593-8400, Make checks payable to PPLDF (Mail to 1175 Chapel Hills Drive – Colorado Springs, CO 80920), or fill out the payment form at the bottom of this page.
A Music Workshop for students is also held, sponsored by the Shivers Fund:
When: Sat., Oct. 26, 2:30 p.m.
Proceeds benefit the Shivers Fund at Pikes Peak Library District.
Artist Biographies
Rossano Sportiello was born in Italy on June 1, 1974. At the age of 16 he was already performing jazz piano professionally in the Milan area while still studying classical music. He graduated in classical piano in 1996. Since 1994 Rossano has performed in Italy, Germany, Switzerland, France, Spain, Belgium, Holland, Luxembourg, Norway, United Kingdom, the United States, Hungary, Israel, Japan, and South Korea. In 2007, Rossano married American writer Lala Moore and moved to New York City. Rossano maintains a full schedule of concerts in the United States and Europe. Even though he's an Italian-born musician, he's considered one of the major interpreters of the American jazz idiom with particular attention to the period from the Harlem Stride piano style of the '20s and '30s to the Be-Bop of the '50s. Rossano has received a number of distinguished awards in the field such as France's Prix du Jazz Classique in 2005, Switzerland's Ascona Jazz Award in 2009, and Italy's Premio Vittorio Ramella in 2011, and Premio Valenza Jazz in 2016.


Lila Mori is a versatile and dedicated vocal artist, entertainer, and educator extraordinaire. For over 43 years, thirty two of them in Colorado Springs, Lila has actively embraced a vocal career as both a jazz artist and a classical artist, and as a vocal educator. Her passion is continual vocal improvement in herself and in the hundreds of voice students she has instructed over the past twenty nine years. She has taught voice at Adams State College and Colorado College for the summer session's Vocal Arts Symposium. Lila has appeared as the featured soloist with The Colorado Springs Philharmonic, Colorado Springs Symphony, The Pikes Peak Civic Orchestra, the Broadmoor Pops Orchestra, and The Ken Miller Orchestra. For twenty four years, audiences have thrilled to Lila's performances with the Penrose Room Trio and the Ken Miller Trio every Wednesday through Saturday in the Penrose Room at the world-famous Broadmoor Hotel in Colorado Springs. They have recorded three CD's: Penrose Dancing, I Let a Song Go Out of My Heart, and Moonglow Dancing.


Marlaina Owens, soprano, recently graduated from UC Irvine with her Masters in Vocal Arts. She received her B.A in Music from Loyola Marymount University. At the end of her undergraduate career, in addition to presenting her senior recital, she had many successes such as being one of the students chosen to sing at her undergraduate graduation for both Bill and Hilary Clinton, among other honors. For the end of her graduate studies, she was Rosalinda in UCI Opera's production of Die Fledermaus and presented her master's recital, with a focus solely on repertoire by African American composers. Other than vocal training at the university, she has also participated in programs such as Opera Lucca, Hawaii Performing Arts Festival, and Patti and Allan Herbert Frost School of Music at Salzburg. Since graduation, she has performed as the Soprano Soloist in Handel's Messiah with the Los Angeles Inner City Youth Orchestra and she has been a guest soloist with the UCI symphony. She is a member of the prestigious Albert McNeil Jubilee Singers where she has performed with Kathleen Battle. Previous opera roles include Zweite Dame (Mozart's Die Zauberflote), Mrs. Gibbs (Ned Rorem's Our Town), Nella (Puccini's Gianni Schicchi), and the title role in Suor Angelica (Puccini).