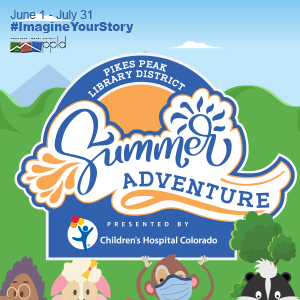 Have an adventure with Pikes Peak Library District this summer! Our Summer Adventure presented by Children's Hospital Colorado game has moved completely online, to help keep kids and teens stay engaged and active over the summer months, despite the COVID-19 pandemic. We know you're looking for at-home activity ideas, and we are here to help!
Win prizes through reading, moving, and imagining! Either participate in one of our virtual programs or use one of our activity ideas.
Virtual Storytime
Virtual KidsMAKE
Virtual KidsSTEM
Summer Picks
---
READ
Ages 0 - 3
Ages 4 - 7
Ages 8 - 12
---
IMAGINE
Ages 0 - 3
Play animal charades. Act like an animal and make that animal's noises. Can others guess who you are? Keep going until everyone's stumped!
Make a blanket fort, but make believe it's something grander. Is it a castle? A tree house? Snuggle up inside with a story or a snack.
Build something as tall as you using blocks, empty tissue containers, or pillows. Knock it down and build it again. How tall can you build it before it tumbles?
Paint the sidewalk, driveway, or porch with water! Dip a paintbrush or a rag into water and use it to create fun designs.
Ages 4 - 7
Pretend you're an animal and have others guess what animal you are. You can only act out the motions--no sounds or words! How many animals can you pretend to be that others can guess?
Create a house for your stuffed animals out of objects in your room. Find an unused box to make a tiny home or make a tent out of a blanket. Tell your stuffie a story before bed.
Build a fort. Use chairs, tables, blankets, pillow, sheets, or anything around the house to build your fort. Name your fort and invite someone inside to read with you.
Create a map of your neighborhood using paper and a pencil, markers, or crayons. Decide where you would hide treasure and mark it on your map.
Ages 8 - 12
Discover more about your family. Call or write a letter to a loved one. What stories about their life can they tell you? What was it like for them at your age?
Imagine a mythical beast or creature and then make it using whatever art supplies, doo-dads, or natural materials you have available or can find.
Try future journaling. What will your life be like in 10 … 20 … 50 years? Will your dog be able to talk to you? Will cars fly? What will you be doing? Keep this journal and look at it when you hit those milestone years.
Cook dinner for the family. Find a recipe, prep the ingredients, and discover your inner chef! Grab a grown-up to help you or ask them to show you how to make a family favorite.
---
MOVE
Ages 0 - 3
Go on a sensory walk indoors. Can you find something that's smooth? Rough? Bumpy? Soft? Shiny? Cold? Identifying an item's texture builds vocabulary in a fun way.
Play your favorite music and dance together with scarves, ribbons, or paper streamers. Or have a dance party to show off your best moves. Check out our Freegal playlist just for kids where you'll find lots of fun music to dance to.
Splash in puddles after it rains or in the bathtub at home. Drop bath or swim toys from different heights to see how they splash.
Find a place to observe wildlife. Can you find squirrels, ducks, deer, or songbirds? As you point to different animals, try to make the animal's sound.
Ages 4 - 7
Create a race course with sections for skipping, hopping on one foot, galloping, and sideways stepping. How many laps can you do in a row? Practicing steps like this helps build coordination and endurance.
Take turns hiding and seeking a special toy. Having trouble? Provide hints or call out "Warm! Warmer!" as they get closer.
Walk with your family or your dog around the neighborhood. How many animals did you see? Can you draw a picture of the animals you saw?
Go on a nature walk. Collect anything you like on the ground that came from a plant. When you get home, make a collage with your collection.
Ages 8 - 12
Host a Kids verses Adults night with your immediate family. Choose a competitive activity: maybe it's a board game, maybe it's an obstacle course (make one with boxes!), or maybe it's a simple race. Split up into teams: adults vs. kids. Let the games begin!
Surprise your grown-ups with a clean room--any room! If you choose your bedroom, clean it first and rearrange the furniture in a fresh, new way. It might inspire some new creative thinking!
Create your own signature dance to a favorite song. You can keep it to yourself... or teach your buddies. Looking for some music? Check out our Freegal playlist just for kids.
Put on the most amazing show of the summer--anything goes! Create a play, put on a stuffed animal show, dance to the music--whatever you want. Show your family what you can do!