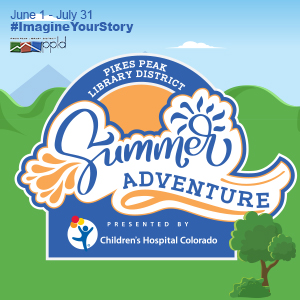 Have an adventure with Pikes Peak Library District this summer! Our Summer Adventure presented by Children's Hospital Colorado game has moved completely online, to help keep kids and teens stay engaged and active over the summer months, despite the COVID-19 pandemic. We know you're looking for at-home activity ideas, and we are here to help!
Win prizes through reading, moving, and imagining! Either participate in one of our virtual programs or use one of our activity ideas.
---
READ
Read a book your parent (or another adult you like) loved as a teen.
---
IMAGINE
Create a myth or legend to explain a natural phenomenon - like why don't snakes have legs?
Write and mail or email a letter to someone you know.
Create a comic strip/graphic story.
Enter the PPLD writing contest, All Pikes Peaks Writes!
Use CultureGrams through ppld.org to learn about another country virtually.
Visit a local museum or learning center's website. Take a virtual tour.
Build a castle out of foraged objects! Take a picture and tag us on Instagram (with your parent's permission) @ppldteens.
Create something with materials you found in or around your living space. What did you create? Check out the calendar for PPLD virtual create programs!
Spend at least an hour making something (this could be anything: food, artwork, woodworking projects, a science experiment, etc.).
Create something online! Use block coding to construct a game, start a blog on something you are passionate about, or make music.
Talk to someone (in person or virtually) about their life story. You can use the StoryCorps App for help getting started or come up with your own questions.
Find a myth in the Encyclopedia of World Myth.
Draw a map that represents a world from a book or movie. Check out the resource linked below for help getting started or check out an atlas for ideas!
Re-imagine yourself as a mythological character. Draw what you would look like, and create your own myth to go along with it! If you share your creation, tag us on Instagram with your parent's permission: @ppldteens.
Do a Random Act of Kindness for someone else.
Stay home! Participate in a self-care activity while you're practicing social distancing.
Write letters to members of the military! Visit the Operation Gratitude for more information.
Find one of your representatives and write a letter or email to them about an issue you are passionate about! Click here to learn about who you representatives are at all levels of government.
---
MOVE
Take a walk around your neighborhood (practice safe social distancing).
Dance like nobody's watching! Learn a dance online or just dance around your home. Eight songs is approximately equal to 30 minutes. Use Freegal for free!
Go for a run. Try to run for 30 minutes, but walk as much as you need to. By the end of the summer, you might be able to run for 30 minutes without stopping!
Practice yoga. New to yoga? Check out the Great Courses: Yoga on Kanopy, which is free with your library card.
Complete sports drills: work on your dribbling, serve, spike, spiral or whatever pertains to you.
Jump rope.
Hula hoop.
Try a form of exercise or learn a sport that is new to you.
Ride your bike.
Go outside - hike or visit a park nearby as long as you can maintain safe social distancing.

---