What's New: Foundation
The Pikes Peak Library District Foundation and Children's Hospital Colorado, Colorado Springs announced a corporate partnership that makes Children's Colorado, Colorado Springs the presenting sponsor of the Summer Adventure reading program. In addition, the hospital maintains its sponsorship of Library 21c's Family Place Library and will provide free health-related resources, educational opportunities, and family programming throughout Pikes Peak Library District (PPLD).
"Our partnership with PPLD allows us to broaden our reach and connect with families in a different way by providing useful resources and programming in a safe, fun and thoughtful environment," said Christy Dobson, executive director of corporate and community relations, Children's Hospital Colorado.
Children's Colorado is a leading pediatric network 100% dedicated to the health and well-being of children, adolescents and young adults. Children's Colorado offers a full spectrum of family-centered care at its urgent, emergency and specialty care locations. Scheduled to open in early 2019, the new Children's Colorado, Colorado Springs will be the first pediatric-only hospital in southern Colorado.
Children's Colorado's dedication to caring for kids at all ages and status as a private, nonprofit pediatric healthcare network makes it the perfect partner for PPLD. This partnership allows PPLD to reach more children and families with health related resources that may otherwise have been out of reach.
For more information on how your company can partner with PPLD, please call (719) 531-6333, x6890 or email foundation@ppld.org. To make a charitable gift and create life-changing stories Donate Now.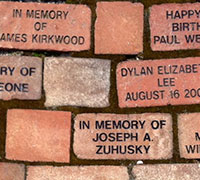 Purchasing a courtyard paver is a great way to honor family and friends, commemorate memories and events, or to publicize your organization or business. Your purchase of a courtyard paver also contributes to PPLD's Tri-Building project, providing 21st Century Library service through innovative library spaces and technology for everyone in our community.
Commemorative pavers are now available at Fountain Library!