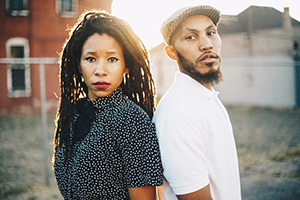 PPLD's Makers in Residence for September and October 2018 are The Reminders (Big Samir and Aja Black), a rare and remarkable musical duo, blending soulful sounds and roots music with insightful messages and thoughtful lyrics. Releasing their debut album Recollect in 2008 and their latest Born Champions in 2012, The Reminders have been recognized and applauded for their work both nationally internationally through concerts, tours, music awards, and television and radio appearances. The duo is constantly and actively engaged with community organizations, schools, universities, delivering workshops, talks, and specially catered performances.
They will be teaching classes throughout Pikes Peak Library District, as well as hosting open studio hours at Sand Creek Library and Library 21c.
Write with Feeling
In this songwriting class, you will learn to cultivate your own original artistic ideas through the creative use of imagery, emotion, metaphor, and personal experience.
Studio Hours