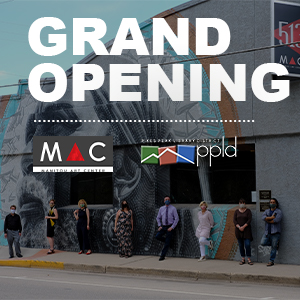 New co-location offers dozens of new Library services thanks to MAC's facilities
Manitou Springs Library will move from the historic Carnegie building and begin offering curbside services at the MAC on Tue., Feb. 23. When your hold is ready for pick up, visit the new address below. Upon arrival, text or call the number provided – and have your library card number and PIN ready.
Save the date for the grand opening on Fri., March 5! The celebration will kick off with a ribbon cutting around 11 a.m., with the library open until 5 p.m. on the First Friday Art Walk. You'll be able to browse the collection, speak with a librarian, book a computer session, or use the fax, scan, and copier machine. Plus, you can take home a limited-edition library card, special take and make kit, and giveaways while supplies last. No RSVP needed.
Want a sneak peek of the new space? Join us on Facebook beginning at 6 p.m. on Wed., March 3.
---
Address:
515 Manitou Ave. - map it!
Manitou Springs, CO 80829
Curbside Pickup Phone Number: (719) 685-5206
Contact Us
Curbside Hours:
Monday: Closed
Tuesday - Thursday: 10 a.m. - 6 p.m.
Friday - Saturday: 10 a.m. - 5 p.m.
Sunday: Closed
Get your limited-edition library card soon!

Congratulations to artist Susan Odiam of Manitou Springs! Her original creation will be featured on our limited-edition card to celebrate the relocation of Manitou Springs Library to the Manitou Art Center.
---
Manitou Springs Library and Manitou Art Center (MAC) will officially collocate their services beginning in December of 2020. Now, a PPLD library card will help Library users find music, theatre, visual art and the vast resources and services of the public library all in one place.
"We are thrilled to pair our physical collection and other library services with an organization so focused on helping users create, learn, exhibit, perform, and connect with others in Manitou Springs," said PPLD Chief Librarian and CEO John Spears. "MAC's facility will immeasurably enhance what we can provide in the Manitou Springs community."
The Manitou Springs Library will be housed inside of the MAC while still providing access and use for MAC supporters, local artists, and tenant community partners. PPLD will provide staff support, a physical collection of books and other Library materials, and access to meeting rooms and creative spaces for Library patrons. MAC members and artists will still maintain benefits while gaining more opportunities and exposure.
"We have already experienced great success partnering with PPLD on a number of initiatives, and the MAC is excited about this opportunity, which will allow us to do even more for the community," said MAC Executive Director Natalie Johnson.
"We're excited to see what other long-term benefits arise from this venture, like increasing access to the MAC and expanding PPLD opportunities in Manitou Springs. We will leverage each other's strengths of service."
PPLD and MAC officially entered into a co-location agreement last month. This co-location partnership and move is taking place as the City of Manitou Springs determines what to do with the historic Carnegie building, owned by the City and currently leased by PPLD for the Manitou Springs Library through the end of 2020.
"PPLD's departure provides the City with necessary time to plan for the building's future, while allowing the Library to adequately serve the public," said Spears. "The move will be beneficial for PPLD cardholders, MAC members, local artists, community partners, taxpayers and the local economy.