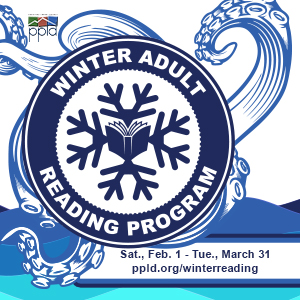 PPLD invites you to participate in 2020's Winter Adult Reading Program: Imagine Your Story! From Feb. 1 - March 31, read books and attend Library programs to win prizes. This year we are challenging patrons ages 18+ to read eight books in eight weeks or read four books and complete four related library programs or activities in eight weeks!
---
Prizes
Complete the first level by reading four books, or with a combination of reading two books and two activities, and win an enamel pin and Rocky Mountain Chocolate Factory chocolate bar.
Complete the second level by reading four more books, or with a combination of reading two more books and two activities, and win the annual mug.
Get entered to win a Samsung Tablet!
Click here to register. (Coming Soon!)
Click here for a complete list of Winter Adult Reading Program events.
Check out the program below for a printable reading log. (Coming Soon!)
---
Special Programs
Winter Adult Reading Program Kick-Off Parties
Join us for a mythological kick-off party! Bring your favorite mythological object or wear your best mythological costume. We'll have light refreshments, lots of mingling with fellow readers, and a Stranger Things themed craft! Not signed up yet? No problem! You can sign up at the party.


Colorado Classics Association
Enjoy an informational lecture presented by the Colorado Classics Association
Tue., Feb 4 - Mythology Across Cultures
Sat., Feb 22 - Ancient Magic
Fri., March 6 - Egyptian Myths
Sat., March 28 - Mythology and the Unconscious


African American Classics: An Introduction
This workshop introduces participants to some major texts by African American authors that have come to be recognized as "classics" and explores some defining elements of African American literature. To illustrate the power and range of this literature, participants will read and discuss excerpts from three classic texts: Invisible Man by Ralph Ellison, Beloved by Toni Morrison, and A Lesson Before Dying by Ernest Gaines. For ages 16+. Registration is required.


Book Folding Series
Beginning Class:
Learn how to up-cycle a book and turn it into a piece of heart. The beginning class will present the basic principles of the art of book folding. The participant will leave with a completed heart design.
Intermediate Class:
Learn how to advance your skills in book folding and create a more advanced design. The two hour intermediate class will build on the skills presented in the basic class. The participant will leave with a partially completed design and the knowledge and confidence to complete the project at home.
Registration required.


Everything You Need to Know to Write a Novel: A Beginning Writer's Workshop
Have you always wanted to write a novel but you're not sure where to start? Are you already writing but unsure of the basic building blocks for a good novel? Are you nearing the end of your first draft and aren't sure what to do next? If you answered "yes" to any of these questions, this workshop can prepare you to move up to the next level of novel writing. Presented by Chris Mandeville. For ages 16 and up.


Winter Sky Watching with the Space Science Institute
Anne Holland from the SSI will do a short lecture and then guide patrons through the night sky using a giant telescope.


Legendary Ladies
Commemorate Women's History Month with the Pikes Peak Library District and the Legendary Ladies!
Hear from six historical reenactors who portray real, courageous women who helped shape the West.
---
Library Programs
Laurel Crowns
Make a crown of golden leaves and flowers.


Stranger Things Craft Night
Create a variety of crafts to showcase your love of the show on buttons, magnets, and more, while connecting with other Stranger Things fans! For ages 12+.


One Night Werewolf Party
Villagers are dying and a werewolf is the culprit, but who IS the werewolf? Guess correctly, and guess quickly, because time is running out. Join us for a round or two of this fun party game! Get cast as a character or lie in wait as a helpless (but eagerly accusatory) villager. Refreshments will be provided. For ages 16+.


Fantasy Mini-Book Keychains
Make keychains from all your favorite fantasy reads, mythological story books to have with you wherever you go. For ages 12+.


Constellation Cross Stitch
Create your favorite constellation using embroidery floss and some basic stitches. You will leave with new skills and a piece of art. For ages 16+.


PPLD's Silent Book Club
Silent Book Clubs are cropping up all over! These are clubs where you come read a book of your choice and then discuss your book with other club attendees. Join us with a book of your choice! We'll provide tea, coffee, and/or cocoa. Before the hour is up, we'll spend a few minutes chatting about what we're reading. For ages 16+.


Myths and Pizza
Take turns reading a classic myth together around the table, while enjoying a pizza meal! For ages 9+.


Constellation Keychains
Create a wooden keychain with your favorite constellation using piercing tools and jewelry pliers. Shine a flashlight through the keychain to project the constellation on the wall or ground! For ages 16+.


Under the Sea Lantern
Make a magical gradient lantern with an under the sea silhouette. For ages 12+.


Once Upon a Murder Mystery
Join in the mystery at this thematic party. Food and drink will be provided and characters are first come first serve. For ages 16+.
---
Activities
Read a new genre or author
Read a book you should have read in school
Read a book about a place you want to visit