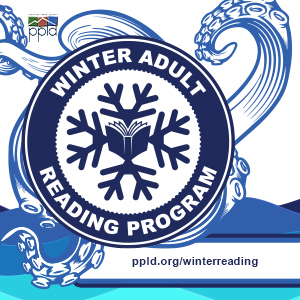 Spring is here, but it's not too late to join the Winter Adult Reading Program! Imagine Your Story: Fantasy, Mythology, and Fairy Tales, the 2020 Winter Adult Reading Program, is extended until further notice due to the COVID-19 pandemic. All prizes are being held until PPLD locations reopen. Sign up today - just click below!
---
To complete the Winter Adult Reading Program, you can either read eight books,
or
read four books and complete four virtual activities.
Need some suggestions for activities? We're here to help:
Write a book review.
Read a book you should have read in high school or college.
Read a new genre. Get suggestions here.
Read a book about a place you would like to visit.
Read a book and then watch the movie it's based on (use Hoopla or Kanopy with your Library card to watch the movie!).
Sign up for a Nextreads Newsletter.
Explore the PPLD Digital Collections.
Participate in an online book discussion (details to come!).
Prizes
We believe your hard work should be rewarded, so once you complete all eight activities, visit any Library location to pick up a chocolate bar from the Rocky Mountain Chocolate Factory, an enamel pin, and a mug. Open to ages 18+.
Click here for a printable reading log.
---